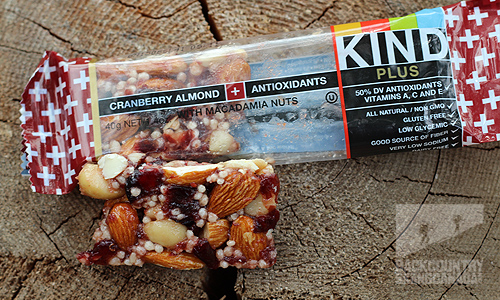 I like KIND Bars for a light snack when you're not feeling like heavy-duty protein bar. They're just like a nice cluster of nuts, spices and fruits in an easy, grab-and-go format. These bars lived up to their names and all of the flavors tasted as they should, if not, even better. All of these bars are around 200 calories, with roughly 5-7g of protein, 5-7g of fiber, and less than 5g of sugar.
Flavor review:
Almond Walnut Macadamia + Protein (with peanuts) – The addition of peanuts makes this bar taste reminiscent of a "peanut roll" candy bar. I like that it has 10g of protein vs. the regular 5-7g.
Cashew & Ginger Spice – tastes like ginger snap cookies.
Madagascar Vanilla Almond – ever since fro-yo introduced me to "Madagascar vanilla" I'm a sucker for anything with that in the title.
Dark Chocolate Cinnamon Pecan – anything with dark chocolate, cinnamon and nuts is a winner in my book!
Dark Chocolate Nuts & Sea Salt – If I had to choose one of these bars to eat everyday for the rest of my life, it would probably be this one. It tastes like a decadant/gourmet chocolate, except for it's not bad for you.
What's your favorite kind of snack/granola/protein bar?
Disclaimer: I was not compensated for this post, but I received complimentary KIND Bars for my review. However, as always, all thoughts and opinions are my own.…