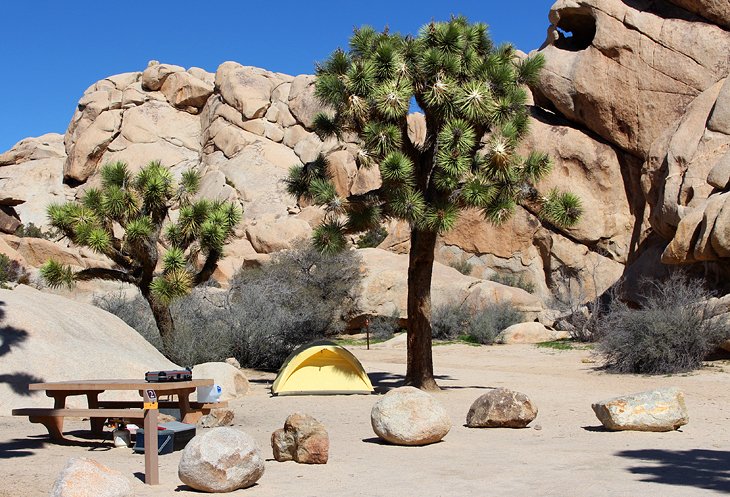 Where do you camp when all the campgrounds are full in Joshua Tree?
With no real plans except for a few campsites in mind (e.g. White Tank, Jumbo Rocks) Kevin and I arrived at Joshua Tree National Park late on Saturday afternoon to a full park.
We were informed that the only campground with open sites was Cottonwood. However, Cottonwood was 30 miles away within the park, basically at the South entrance/exit. So instead, we decided to weigh our options and scout out the backcountry sites.
I had read of BLM (Bureau of Land Management) camping which is free and primitive camping outside the National Park (and from what I've read quite desolate). However, we found out that you can do dispersement camping (pack-in, pack-out) at designated Backcountry Boards inside the park. These are located throughout the park (look on the map for the blue B's). All you need to do is find the Backcountry Board, and fill out a free permit that basically provides the information for your car (so you can park overnight) and some accountability for yourself going out there. The only real restriction to backcountry camping is that you must be 1 mile from the road and 500 ft from any trails.
After driving through the White Tank campground and realizing that even though all of the sites are divided by huge boulders, there is still a lack of privacy. Going off the grid was exactly what we both wanted, needed and liked (camping is all about isolation!). We ended up using the Twin Tanks location (you can see 12 other spots within JTNP here). With just enough time to carry 2 loads from the car (we've worked on condensing since our first dispersement camping experience) and set up camp, we took a hike to the nearest …