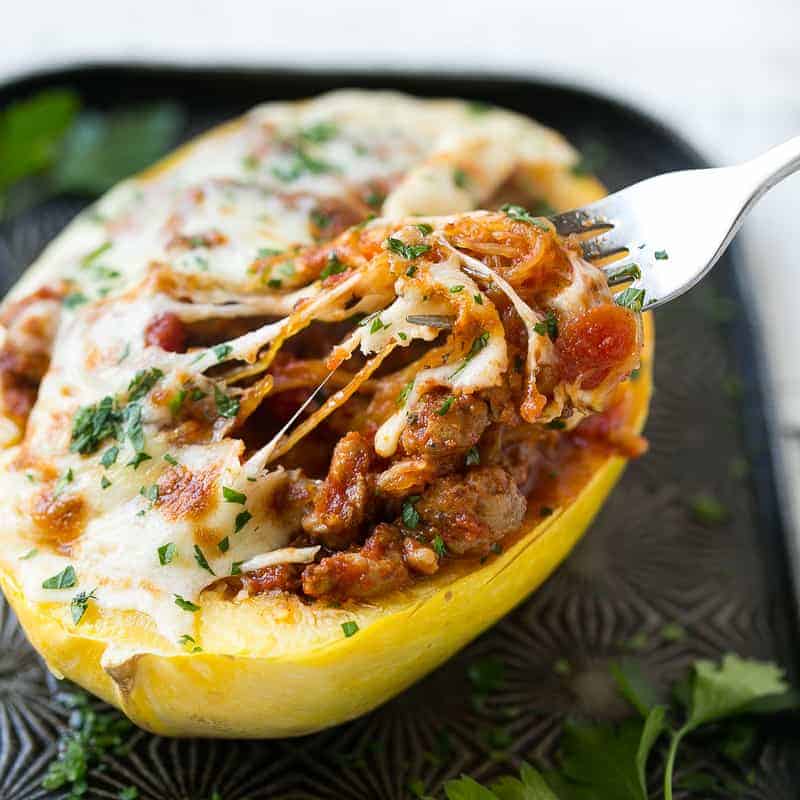 If I was auditioning to be the Next Food Network Star and needed to have a P.O.V. (point of view) mine would be: simple, flavorful and healthy. Short prep time, good. Few ingredients, better. Not laden with calories, most excellent! This recipe is all 3: simple, flavorful and healthy. Although it did leave me hangry for some dessert afterwards…my sweet tooth is a whole other story
Spaghetti Squash Boats
Adapted from Taste of Home circa 1997!
INGREDIENTS:
1 medium spaghetti squash
1 lb. bulk sweet pork sausage
2 cups broccoli florets
1 cup chopped green pepper
1 cup sliced crimini mushrooms
1 tsp. dried basil
Salt & pepper to taste
1 can (14.5 oz) diced tomatoes, drained
1/2 cup shredded part-skim mozzarella cheese
DIRECTIONS:
Cut squash in half lengthwise; scoop out seeds. Place squash, cut side down, in a baking dish. Fill pan with hot water to a depth of 1/2 in. Bake, uncovered, at 375° for 30-40 minutes or until tender.
When cool enough to handle, scoop out squash, separating strands with a fork; set shells and squash aside.
In a skillet, cook the sausage, broccoli and green pepper over medium heat until meat is no longer pink.
Add the mushrooms, basil, salt and pepper; cook and stir for 2 minutes.
Add tomatoes; cook and stir for 2 minutes. Turn of heat and stir in squash.
Fill shells; place in shallow baking dish.
Turn down the oven to 350°. Sprinkle with cheese; bake for 5 minutes or until cheese is melted. Makes 2 main-dish servings, with enough filling leftover to refill one shell.
…