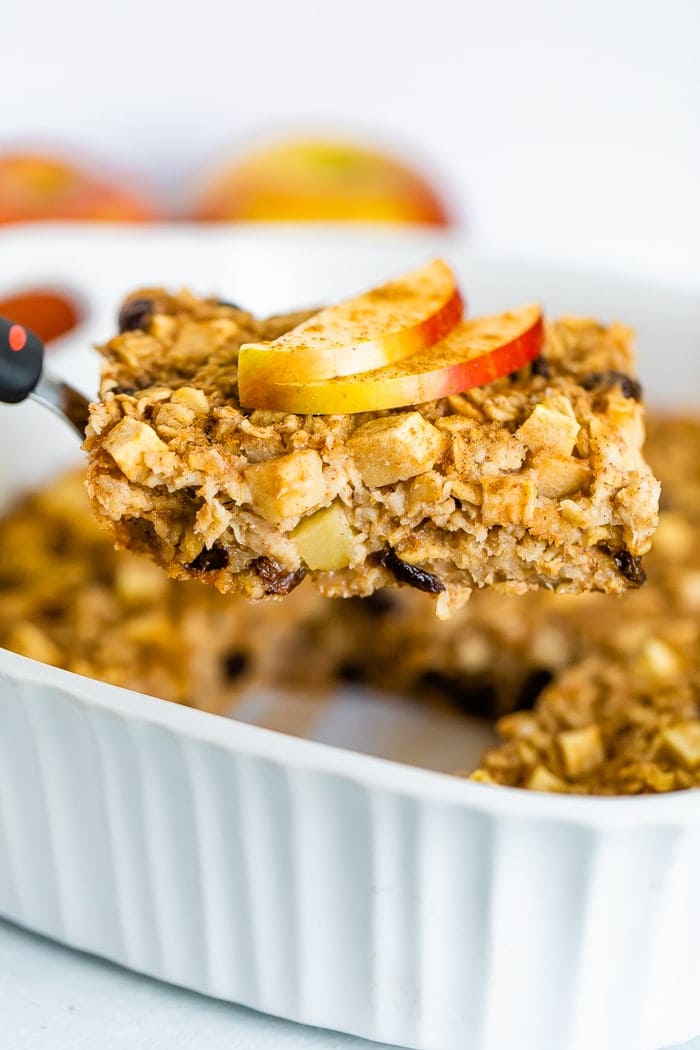 Originally, I made this for our running club potluck last Saturday.  Amidst the other amazing brunch dishes, I didn't really know how I felt about it.  But it was super easy to throw together (a lot easier than I thought because I was kinda dreading baking), so I decided to add it to my weekly meal prep for breakfast/a morning snack.
Now that I've had it as a stand-alone dish, it's a lot better than I thought!  Even when I omitted the sugar this time.  And while I've only had it cold, I can only imagine how much better it is when it's hot.
Apple Cinnamon Baked Oatmeal
Adapted from Family Fresh Cooking
INGREDIENTS:
2 cups Coach's Oats (or regular rolled oats)
1/2 teaspoon salt
1 teaspoon baking powder
2 tsp. ground cinnamon
1 cup unsweetened Applesauce
3 cups almond milk
13.5 oz can of unsweetened Light Coconut Milk
1 large fuji apple, diced
2 Tbsp. brown sugar (optional)
Toppings: 1 fuji apple (thinly sliced), pomegranate flavored craisins and chopped pecans
DIRECTIONS:
Pre heat oven to 350 degrees F.
Whisk together dry ingredients (oats, salt, baking powder and cinnamon) in a large bowl.
Pour in applesauce and all milks. Add apples and sugar (if using).
Let the mixture sit to absorb some liquid for 10-15 minutes. Set the toppings aside.
Put the oatmeal mixture in the baking dish (I divided the mixture into two round casserole dishes).
Bake for about 45 minutes. The oatmeal might appear not done when you take it out of the oven. Remove from the oven and let it cool to room temperature.
Top with toppings of your choice.
Put it in the refrigerator overnight for best results. It will thicken nicely in there.
To serve, cut and re-heat as needed.
…