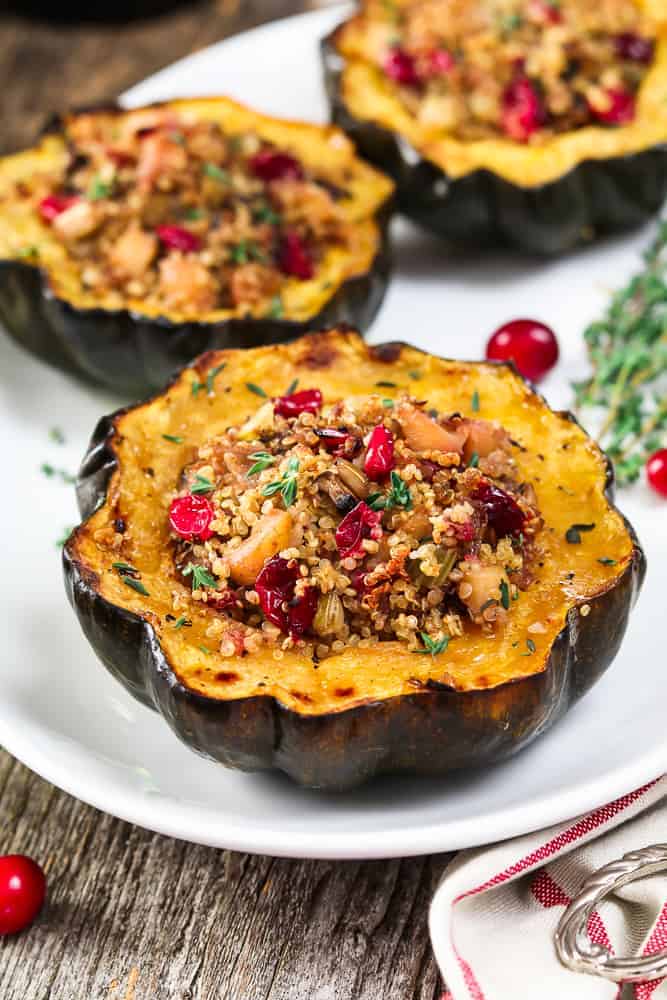 Hooray! So I finally made something seasonal (aside from kabocha squash on the reg.) and something other than tacos. My goal is to try and cook every Sunday, since I've been taking that as my rest day, and I pretty much don't do anything else…we'll see how that plays out. For now, enjoy these fall flavors!
Quinoa Stuffed Acorn Squash with Spinach, Apple and Sausage
Serves 4
INGREDIENTS:
2 acorn squash, halved lengthwise and seeded
Sea salt and fresh ground pepper
2 cups water
1 cup quinoa
6-8 thin Italian sausage links
1 Tbsp. apple cider vinegar
2 Tbsp. olive oil
1 Tbsp. maple syrup
2 cup spinach, chopped
1 apple, finely diced
½ cup walnuts, chopped
DIRECTIONS:
Preheat oven to 425 degrees. Drizzle acorn squash halves with olive oil, salt & pepper. Place cut side down and roast for approximately 25 min.
Flip over the acorn squash and cook for approximately 15 more minutes or the edges are golden brown and the flesh is tender.
As the squash is cooking, bring the water to a boil in a medium pot. Stir in the quinoa, cover and simmer for 10 minutes.
While the quinoa is cooking, heat a saucepan over medium heat. Cook sausage links for 5 minutes on each side, until browned and thoroughly cooked.
Separately, whisk the olive oil, maple syrup, and apple cider vinegar is a small bowl. Set aside.
Chop the spinach, apples and walnuts. Set aside.
When the quinoa is done, pour the quinoa into a large bowl. Mix in the spinach (so it wilts down) and allow the mixture to cool completely. Stir periodically.
Once cool, pour the dressing over the quinoa, add sausage and apples, and stir.
Once the squash is done, fill each half acorn with a slightly heaping portion of the quinoa salad. Top with chopped walnuts.
Cook for an additional 5 minutes in the oven to toast the walnuts and heat everything thoroughly.
Serve warm and enjoy!